Description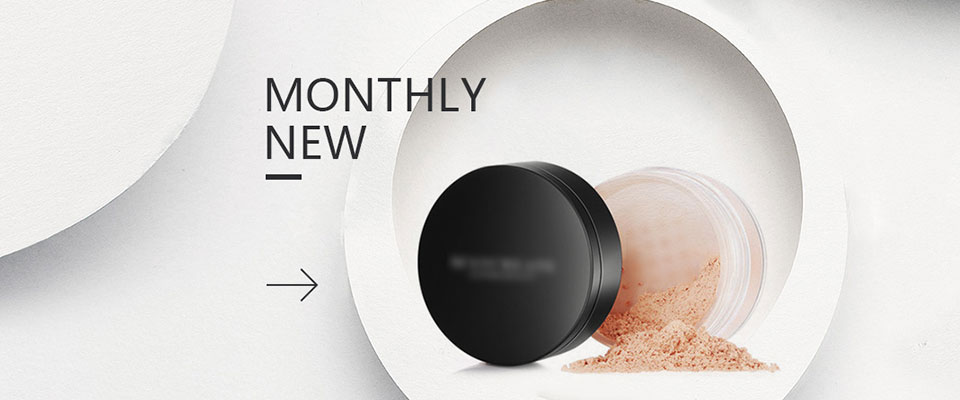 Survival Kits 65 in 1 Outdoor Camping Emergency Tactical Backpack Gear Tools Set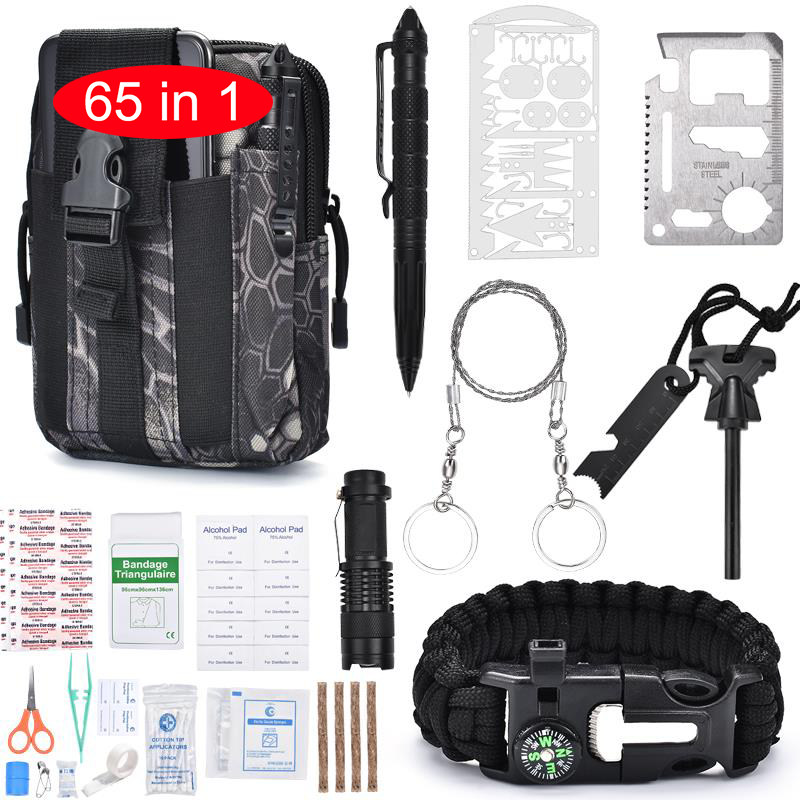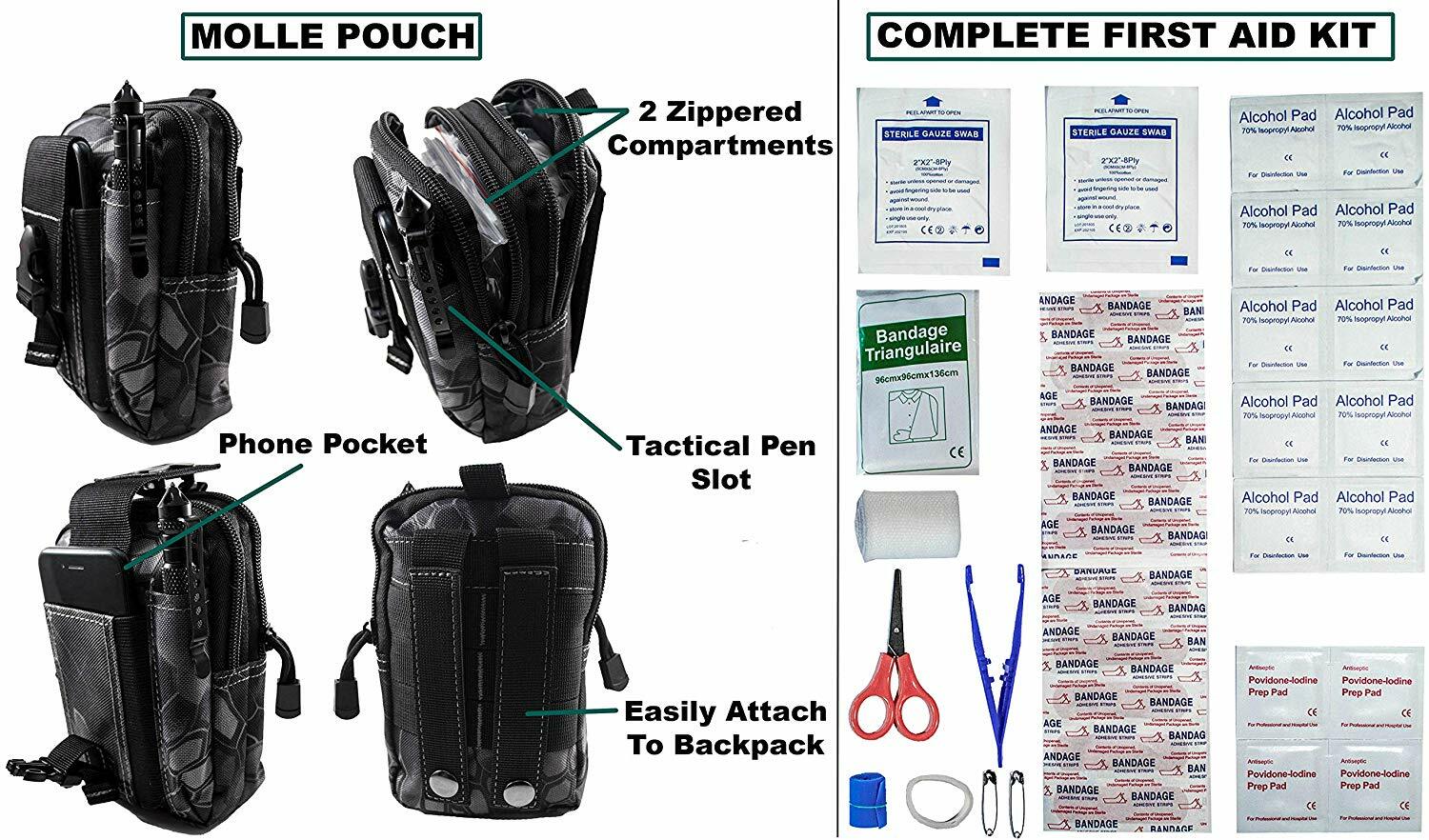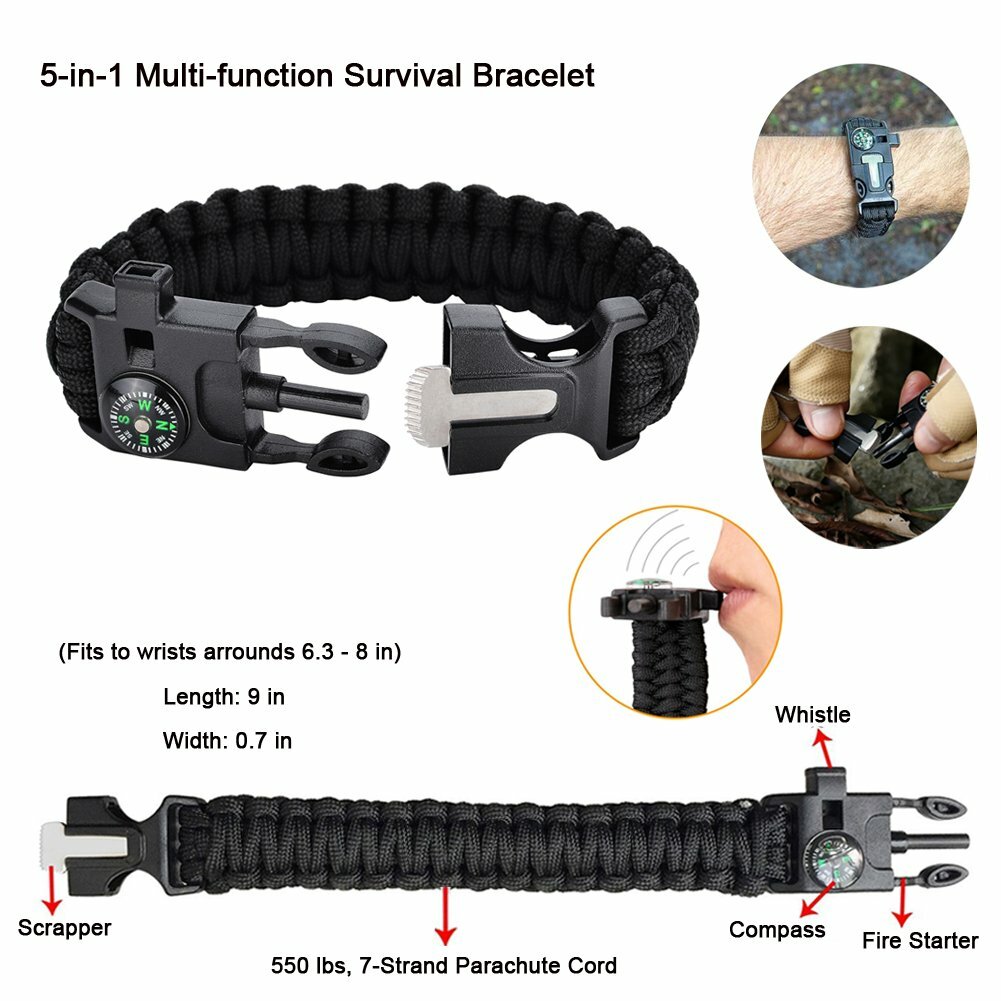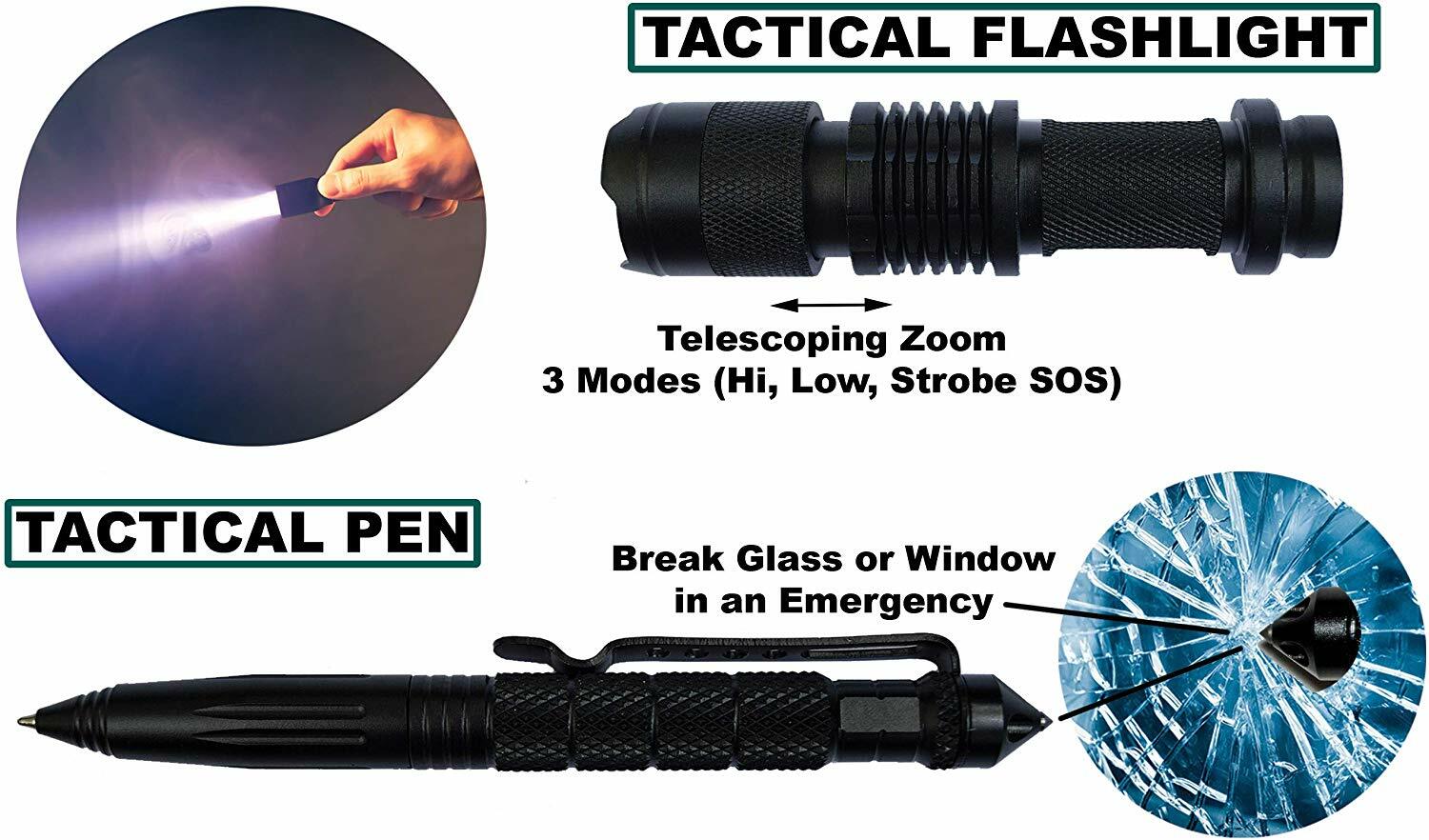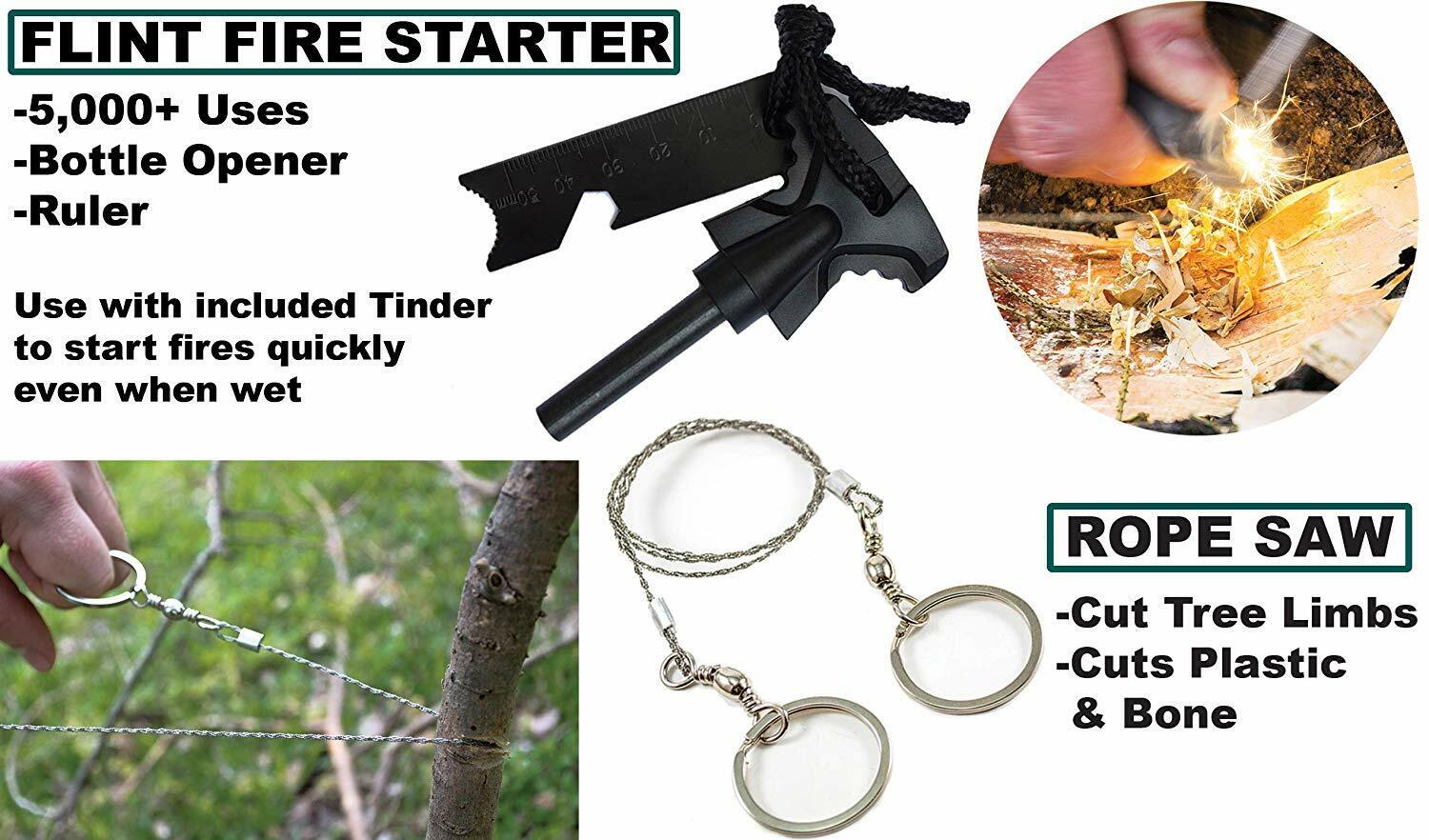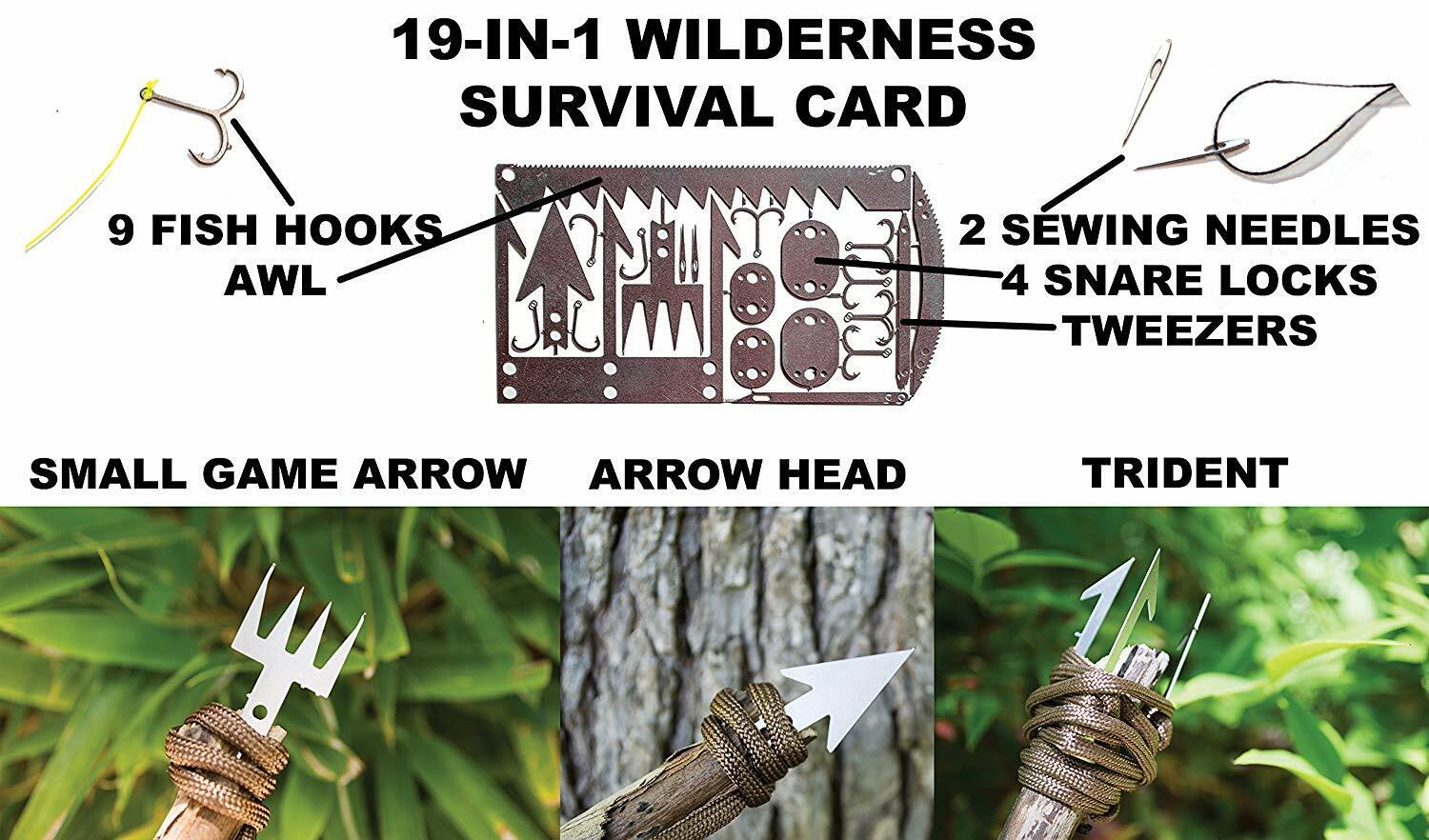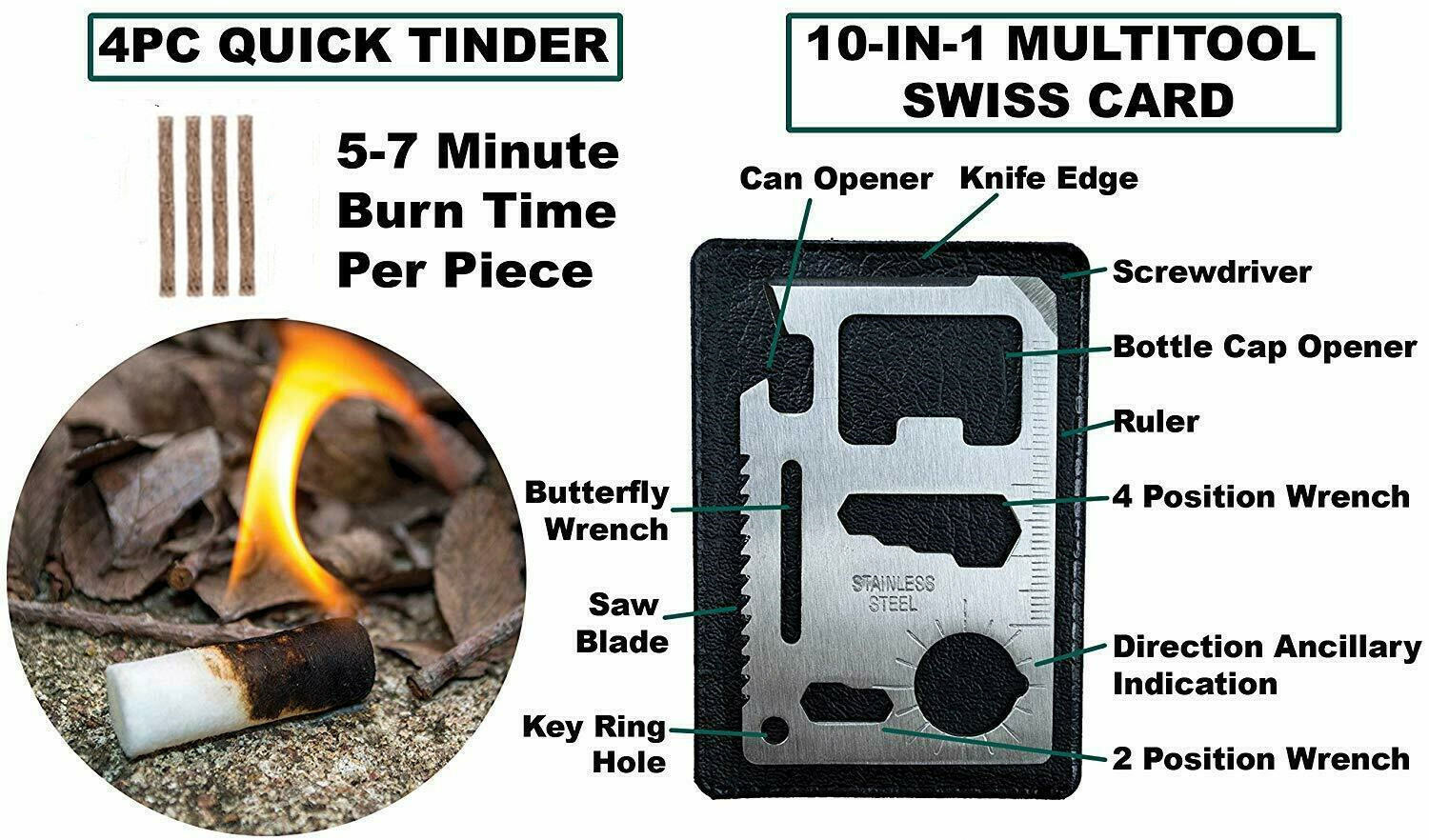 【COMPLETE FIRST AID】

Triangular Bandage, 2x Safety Pins, PBT Bandage, Scissors, 2x Gauze Swab, Latex Tourniquet, 10x Disinfecting Pads, 10x Band Aids, 1x Tweezer, & Instruction Manual.

【MULTIFUNCTIONAL TACTICAL GEAR】

1x Steel LED flashlight, 1x Paracord Bracelet with Compass / Whistle, 1x Flint Striker Fire Starter, 1x Wire Rope Saw, 1x Emergency Pen, 1x Swiss Card, 1x Wilderness Card, 1x Safety Blank

et.

【EXTRA GADGETS & ACC

ESSORIES】

4x Tinder – Start fires quickly in emergency situations, even in rain. Wax soaked for longer burn time. 19-IN-1 WILDERNESS CARD with items such as 9x fishing hooks, 4x snare locks, awl, & more.

【HIKING OR FISHING ADVENTURE】

Your tactical kit will keep you safe in case of an emergency. Perfect for trekking, backpacking, mountain climbing, or camping. Easily packs into your backpack, car vehicle trunk, or bug out bag.
looking for a thoughtful and practical gift for him or dad? Want to make sure that you're prepared for any kind of outdoor emergency?
Presenting The Ultimate Survival Kit For Outdoor Adventures!
We made a list of all our must-have survival tools and used it to create one of the most complete & extensive survival kits on the market.
Steel LED Tactic

al Flashlight –

with adjustable zoom and 3 modes (requires 1 AA battery)

4-In-1 Paracord Bracelet –

with integrated compass, whistle and fire starter




10-In-1 Swiss Card –

with bottle opener, screwdriver, can opener, wrench and more

Flint Steel Striker –

start a fire 5.000+ times with zero effort

4 Pieces Of Rapid Ignite Tinder –

wax soaked so you can start a fire even in rain




Emergency Blanket –

so you can stay warm and protected
35-PIECE WATERPROOF CASE UPGRADE INCLUDES:



19-In-1 Wilderness Card – with fishing hooks, snare locks and more tools




Emergency Tactical Pen – so you can break any car window in seconds




Rope Saw – easily cut tree branches or rope




PBT Bandage & 2 Disinfecting pads




Waterproof & Space Saving Case



MOLLE POUCH UPGRADE INCLUDES:



Complete First Aid Kit




Molle Pouch with phone pocket & multiple zippered compartments.



Don't Waste Any More Time!
The tactical kit will help you protect your loved ones, call for help, stay warm, build shelter, start a fire even during storms and enjoy all your outdoor adventures with unmatched confidence!
We accept payments using one of the following methods:
PayPal
Pay as soon as possible after your purchase so we can ship your item faster!
We ship all items directly within 1 business day. Most items are delivered within 1-3 working days. In certain cases the delivery time is 3 to 5 days. If it is your case, please
contact us to ensure a timely follow-up of your shipment.
We guarantee your satisfaction! If for any reason you are dissatisfied with your item, you must return it within 30 days to receive a full refund less shipping. Please contact us before starting the return so that we can issue a return authorization.
Address: 1000 High Street, Perth Amboy, NJ 08861 USA
TEL : 001-7184542809
A
ddress: 5650 Grace Pl Commerce CA US 90022
TEL : 001-3235970288
If at the time of picking up your parcel you find that there is a knocking, bumping or weird shape, inform the freight forwarder about this to leave a record, otherwise we will not be able to make any interruptions other than the production. Thank you for your help.
We are professional sellers with many years of successful eBay business experience. Our goal is to provide the most sensational products and exceptional customer service to our community.
Please do not hesitate to contact us before leaving negative feedback or low DSRs.
We would very much appreciate the opportunity to follow up with you when needed.
Copyright © 2018 Dianxiaomi