Description
5 DAY SURVIVAL DISASTER KIT EMERGENCY PREPAREDNESS FOOD WATER GEAR + BACKPACK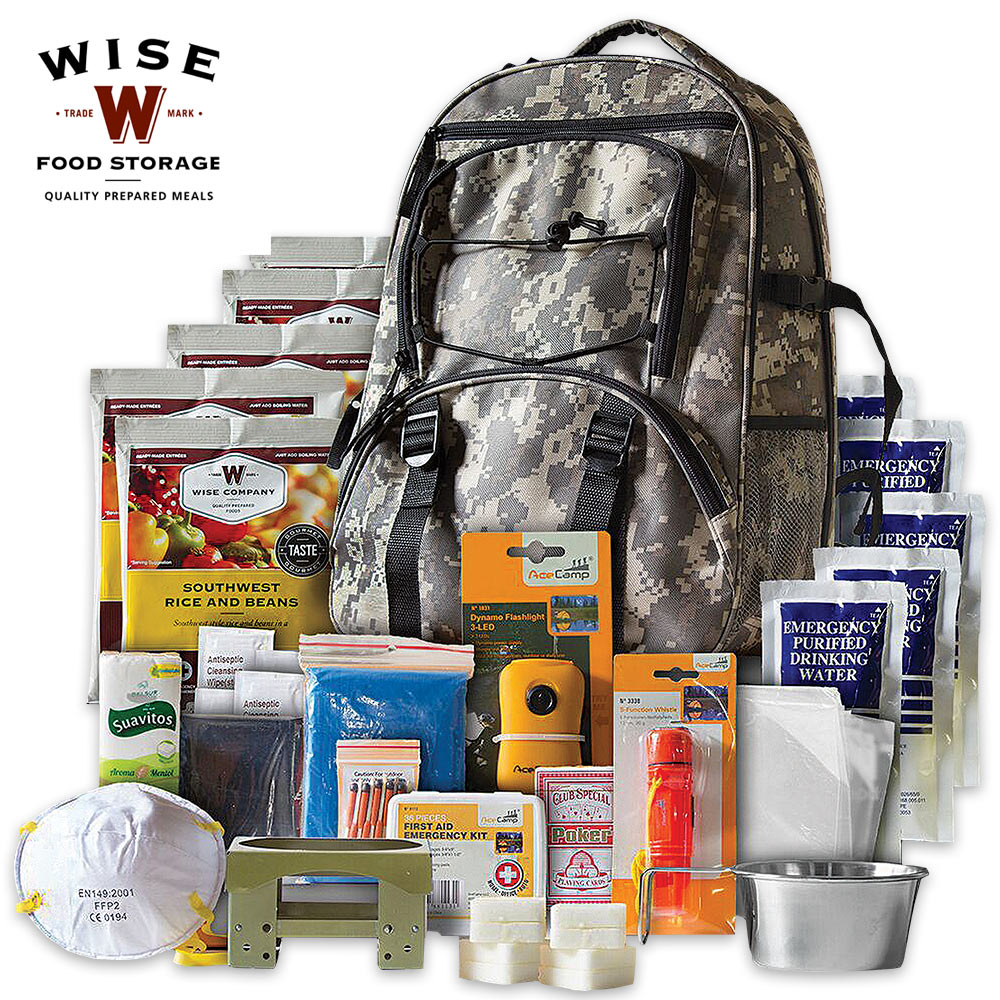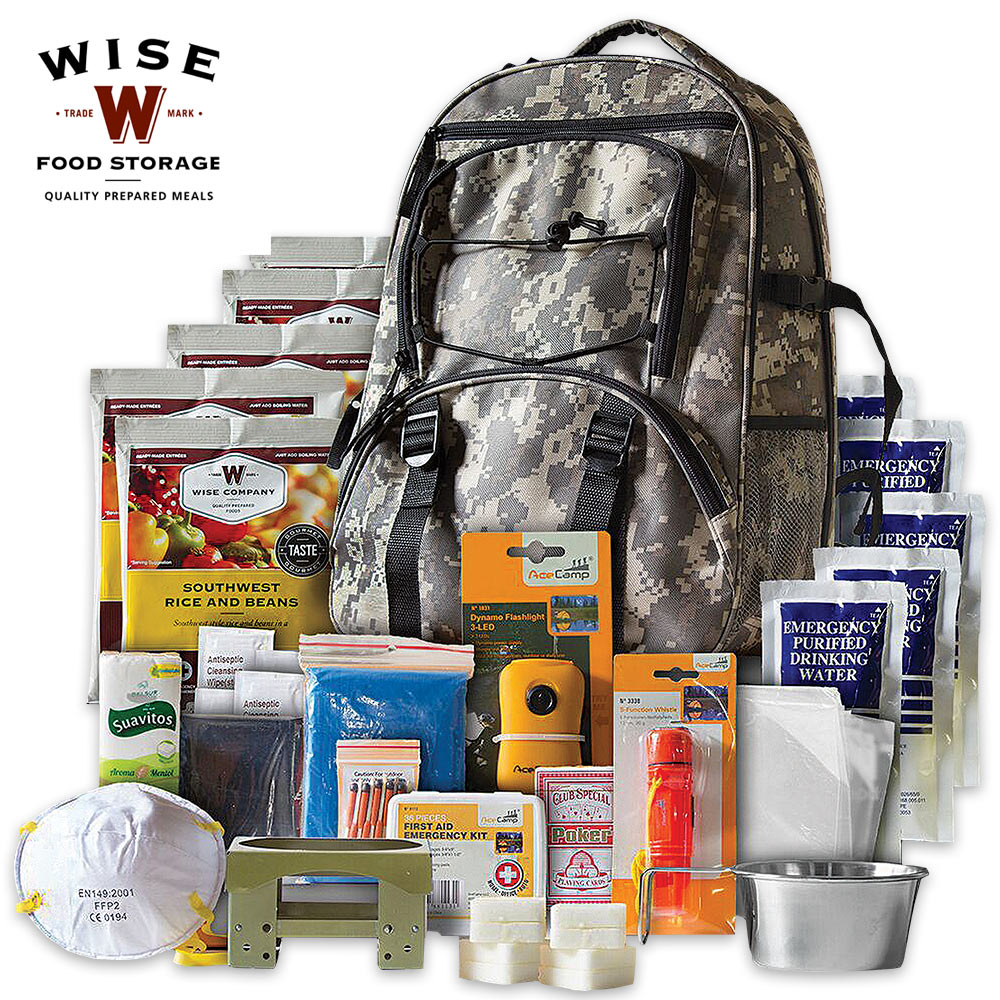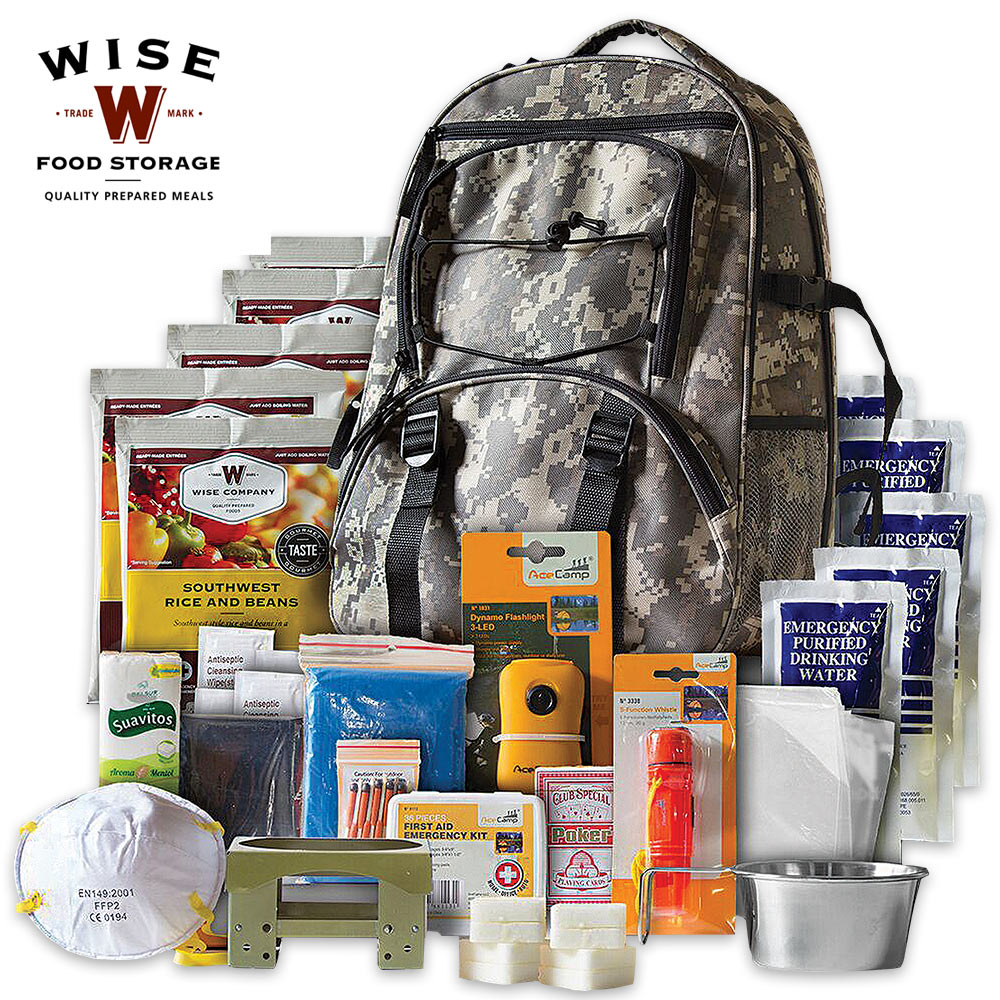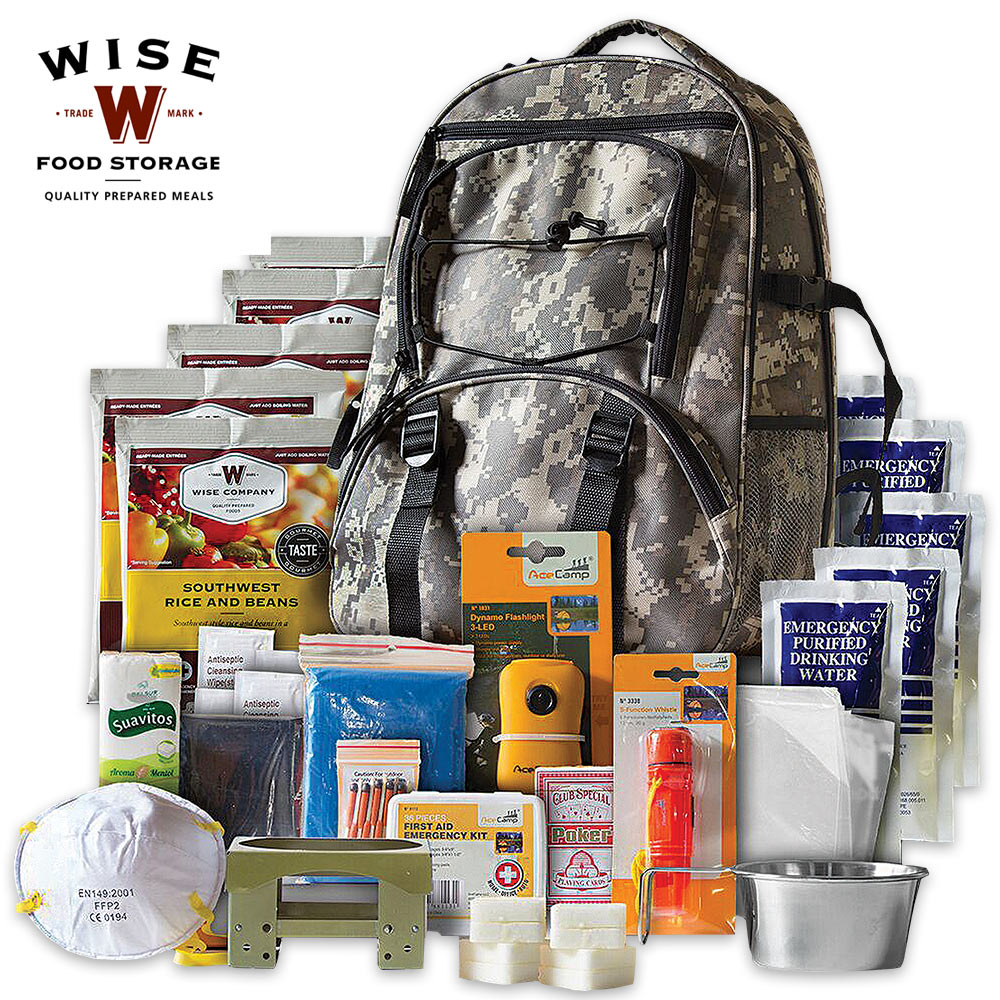 Description
Who says prepping for sudden catastrophe has to be complicated, time-consuming and exhausting? The Wise Company certainly doesn't! The trusted emergency prep experts have taken care of all your survival supply research, gathering, and packaging with their handy 5-Day Emergency Survival Kit/Backpack – a must-have for busy preppers, campers, and anyone who may face power outages, storm damage, unexpected displacement, or other crises in the future. This means you! With everything a single individual needs to ride out danger (or simply camp) in the wilderness for a full five days in a compact, convenient ACU camo backpack, the Wise Emergency Survival Kit makes a perfect bug-out bag for your home, RV, office, emergency shelter, supply cache, or anywhere you may need to quickly escape a threat or peril. And at this affordable price – the lowest youÕll find anywhere – it's "wise" to get a pack for each member of your family, placed in multiple locations for maximum preparedness. The Wise Company thought of everything when assembling this kit – first aid, food, water, warmth, and even entertainment! "Roughing it" never tasted so good with the included 38 servings of delicious, easy-to-prepare food (Apple Cinnamon Cereal, Creamy Pasta, Southwest Beans and Rice, Tortilla Soup, Whey Milk and much more) – great sources of precious nutrition more like Grandma's home cooking than typical bland, bare bones camping fare. Although all the freeze dried food is edible and tasty right out of the package, you can always enjoy Wise meals piping hot with the kit's portable stove, stainless steel cup and fuel tablets. In the event fresh water sources are contaminated by nuclear, chemical or other disasters, or if you live in an arid environment, the 5-Day Emergency Survival Backpack includes five pouches of pure, clean water in a quantity ample for survival and then some. Flashlight, survival whistle, 42-piece first aid and hygiene kit, waterproof matches, Mylar blanket, emergency poncho, and playing cards complete the versatile package. Don't forget your friends and family! Gifting the Wise 54-Day Emergency Survival Kit/Backpack is a great way to show your love and concern, while safeguarding the lives and limbs of those who mean the most to you.
-All survival needs met in one camo pack
-First aid, food, water, warmth and more
-Everything needed to survive for 5 days
-Complete bug-out bag for home, RV, anywhere
-Get multiple kits for various locations
-Must-have for emergencies, camping, outages, more
-38 meals, water, stove, fuel, first aid/hygiene kit, more
Kolour Co. is United States company that is based in Georgia. We are dedicated to providing our customers with high quality outdoor goods at a reasonable price. Through our exceptional customer service, we are positive that we can deliver a positive online buying experience for YOU. Kolour Co. specializes in items like pocket knives, hunting knives, and tactical gear. We are here to help, and would love to answer any questions you may have. We thank you very much for stopping by and invite you message us if you need assistance.
If you have any questions or concerns, please do not hesitate to contact us via eBay message. Your business means very much to us, and we will do all we can to gain your positive feedback.
Return Policy: Please send us an eBay message if you would like a return. We accept returns within 30 days of purchase. The product must be mailed back in 100% new condition (Exactly how you received it). All the original materials must be included. Also, there cannot be any damage done to any of the pieces. If they are in this condition, we will gladly accept the return without hesitation.
Payment is due at the time of purchase.
Unfortunately, we can only ship to the United States. Item(s) will ship within 1-2 business days of purchase with a tracking number. Business days do not include weekends or holidays.
Please send us an eBay message immediately if you have any questions or concerns. We respond very quickly and will be happy to assist you!